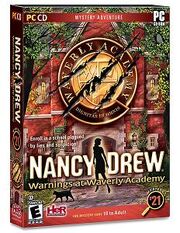 Warnings at Waverly Academy is number twenty-one in the Nancy Drew videogame series. It was released in North America in October 2009. The game takes place in an all girls boarding school in New York where many of the students have been getting threats by a girl calling herself the "Black Cat"
Nancy Drew -- Lani Minella
Mel Corbalis -- Samara Lerman
Rachel Hubbard -- Adrienne Maclain
Corine Meyers -- Emilie Rommel
Izzy Romero -- Khanh Doan
Leela Yadav -- Kasey Brockwell
Megan Vargas -- Nicole Fierstein
Ned Nickerson -- Scott Carty
Paige Griffin -- Charissa Bertels
Student -- Shanna Palmer
Nancy Drew finds herself working as an undercover student, Becca Sawyer, at an exclusive girls-only boarding school called Waverly Academy in upstate New York. Some of the students have been getting threats and accidents following them by someone who signs them the "Black Cat." Nancy dives into the world of clique-conscious teenage girls to solve the mystery. She is soon informed that only girls on the second floor have been receiving threats. The girls on this floor are all in the running for Valedictorian, a highly desired position and a very big deal for those in the running. But it's not long before she realizes there's more to Waverly than meets the eye, and it's not just the conversations of a cute calculus teacher she overhears while serving as Snack Shop Boss. Nancy discovers Rita Hollowell's journal and finds out that this Edgar Allan Poe fan may have hidden a treasure within the walls of the academy. This brings up the possibility that somebody may be trying to obtain this treasure.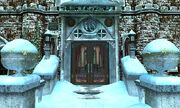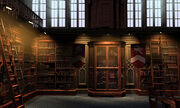 Community content is available under
CC-BY-SA
unless otherwise noted.