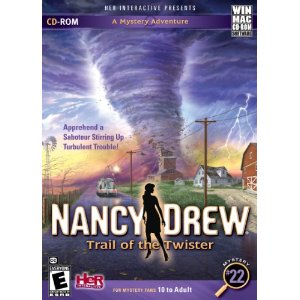 Trail of the Twister is the 22nd installment in the Nancy Drew PC series by Her Interactive. It is based on the 155th Nancy Drew novel The Mystery in Tornado Alley. Nancy travels to Oklahoma to investigate a mysterious string of accidents as the Canute storm-chasing team competes for a $100,000,000 prize.
A string of bad accidents has plagued the Canute storm-chasing team, who are competing in the Green Skies competition. Nancy Drew is sent to the team by P.G. Krolmeister to investigate. She becomes the team intern, replacing the previous intern, Pete, who broke his leg in the latest of the accidents. Nancy has to keep her wits about her, as not only does she have to expose a saboteur, but also is in danger from the powerful storms.
Characters
Edit
Scott Varnell: A professor at Canute College and the leader of the Canute chase team.
Debbie Kircum: The team's project manager. Nancy reports to her for tasks at the beginning of each day.
Chase Relerford: The team mechanic. He's always found in the barn. Nancy can earn Pa Pennies from him by working on circuit boards.
Tobias "Frosty" Harlow: The team photographer. He earned his nickname by taking iconic pictures of a hailstorm.
Pa: Owner of Ma 'n' Pa's General Store. Pa is very friendly and enjoys working in theater.
Brooke Tavanah: Leader of the rival Kingston University chase team.
The mug on Nancy's desk in the intro has the logo of Waverly Academy from Warnings at Waverly Academy on it. Possibly an homage to previous games featuring the Her Interactive mug.
If you turn on the TV, you might see screenshots from past Nancy Drew games.
The juice being sold in Ma n Pa's store is the same juice from the snack shop in Warnings at Waverly Academy.
When talking to Debbie for the first time, she mentions a research center in Hawaii. This refers to the Hilihili Research Center. Also, Scott mentions the Hilihili during a conversation and you see the Hilihili logo by the crops being grown.
When you ask Frosty about the disaster kit, he mentions Lori Girard. Lori is a character from Last Train to Blue Moon Canyon.
The chips on sale in Ma & Pa's store are from Warnings at Waverly Academy.
If you call Nancy's cell phone number, you will hear her answering machine.
The right sticky note on the blue graph paper in front of the siren chart in the living room says "This is really just a note on the right."
If you eat several pieces of candy in a row, the screen will turn green.
When playing the Land Rush game, click on one square, and back away from the game. You will win 250 Pa Pennies.
The green trunk in Scott's office is the same as Dr. Quigley in The Creature of Kapu Cave
Community content is available under
CC-BY-SA
unless otherwise noted.