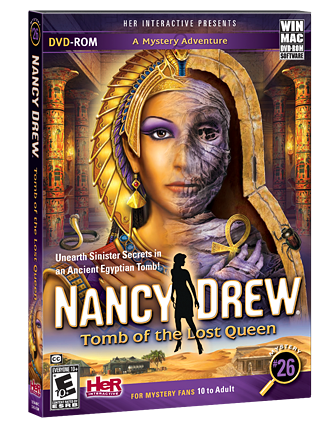 Tomb of the Lost Queen, which was released in May 8, 2012, is the 26th Nancy Drew mystery game.
Nancy travels to a Kingston University archaeological dig site in Egypt, where the tomb of an ancient Egyptian queen has recently been discovered. The site is rumored to be cursed, due to the increase of suspicious accidents. As an amateur detective, Nancy attempts to discover who is really behind the so-called accidents.
Characters
Edit
Abdullah Bakhoum: Abdullah is an Egyptian who's famous for his discoveries in the field of Egyptology. He is assigned as a liaison to the Kingston University dig team.
Lily Crewe: Lily is an Egyptology student from Kingston University. The dig is her first one, making her a willing, but inexperienced member of the team.
Jamila El-Dine: Jamila is a local who is curious about the progress with the dig. Though she believes the pyramids were built by aliens, she is excited with all of the discoveries.
Dylan Carter: Dylan is a charming British tour guide. He enjoys hanging around the dig site, particularly because he feels the site will draw tourists to the area.
Jon Boyle: Jon is in his early 50's and the leader of the dig team. He is a renowned Egyptologist from Kingston University. After he lands in the hospital, he asks Nancy to discover who is causing the accidents at the dig site.
Professor Beatrice Hotchkiss: Hotchkiss is a historian and writer, found in several other of the Nancy Drew Adventure Games. She can be called for help in the game.
Bess Marvin: Bess is Nancy's friend. You can call her in the game.
Community content is available under
CC-BY-SA
unless otherwise noted.