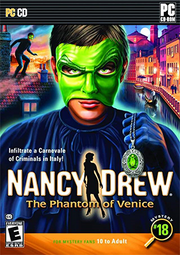 The Phantom of Venice is the 18th installment of the Nancy Drew PC Game series. This game was released in July 2008.
Nancy is in Venice, Italy under cover figuring out what happened to the mysterious phantom who has been stealing things around town.
Helena Berg - Adrienne Maclain
Colin Baxter - Jonah von Spreecken
Margherita Faubourg - Gin Hammond
Enrico Tazza - Bruce Milligan
Prudence Rutherford - Simoune Choule
Ned Nickerson - Scott Carty
Joe Hardy - Rob Jones
Sophia Leporace - Angela Mills
Fausto/ Romano the singing Gondolier - Robert Riedl
Angelo the singing Gondolier - Andrew parks
Benito the singing Gondolier - Bob Love
Bruno the singing Gondolier - Brandon K. Higa
Raimondo the singing Gondolier - Robert Scherzer
Timoteo the singing Gonolier - Tim Burke
Italian additional voices - Giuseppe Leporace, Vanja Skoric, and Claudio Mazzola
Box Description
Edit
Somewhere beyond the bright piazzas and open markets of the Venice Carnevale lurks a masked thief. Despite months of investigations, the Italian police remain helpless as stolen treasures vanish in the night. That's why the authorities asked you, as detective Nancy Drew, to join the case, infiltrate a dangerous crime syndicate and case, infiltrate a dangerous crime syndicate and catch this phantom thief before he or she destroys the heart of Venice!
The stakes have never been higher as Nancy Drew joins an international undercover investigation to track down a phantom thief in Venice. The Italian police have a few leads and you might be the only one who can stop the thefts of historic artifacts. Can you spy on suspects and collect clues before the crime syndicate catches up to you?
Community content is available under
CC-BY-SA
unless otherwise noted.