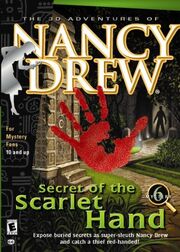 Nancy Drew: Secret of the Scarlet Hand
is the 6th installment of the Nancy Drew 3D interactive mystery game series. The game was released in June 2002.
A brazen thief steals a priceless artifact while you, as Nancy Drew, are setting up an exhibit of ancient Maya treasures in the very next room! The only clue left behind is a mysterious scarlet handprint. Use your wits to track the thief's sinister blood-red signature through a maze of long-buried secrets in this thrilling 3D interactive mystery. Don't delay--unless you find the answer soon, you might become just another part of history.
Storyline
Edit
Between cases, Nancy Drew has taken an internship as Deputy Curator at the Beech Hill Museum in Washington, D.C. Nancy soon discovers she will be doing more than learning about ancient Maya artifacts-there have been a series of thefts and the only clue left behind is a mysterious scarlet handprint! Will Nancy be able to put the pieces of this ancient puzzle together? Or will the mystery remain entombed forever?
Key Features
Edit
Learn about the Mayan civilization and its culture.
Take on the role of a deputy curator for a prestigious museum
Ride the subway and visit sites around Washington D.C.
Choose from Junior or Senior Detective difficulty levels
Characters

Edit
Alejandro del Rio: Alejandro passionately believes that all artifacts should be returned to the country they were found, especially when it comes to his home country, Mexico. He believes that Mexico has been "robbed" of one of its greatest artifacts. Could he have stolen the stone to return it back to its own country?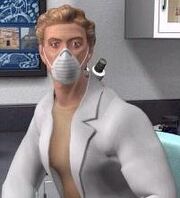 Henrik Van Der Hune: An expert in glyph translations, Henrik works in the museum's lab studying priceless artifacts. Has he learned something about the stone in his studies and stolen the stone to keep its secrets for himself?
Joanna Riggs: The curator of the Museum, Joanna doesn't have time for an amateur detective snooping around. Certainly not time for one who could find out that she could be selling legendary artifacts on the black market.
Taylor Sinclair: Taylor sells priceless paintings to the museum the same way shady car salesmen sell used cars. He might not know a lot about artifacts, but he knows the people who will buy them. Especially if the price is right.
Community content is available under
CC-BY-SA
unless otherwise noted.