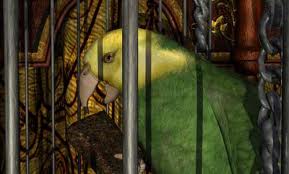 LouLou the Parrot is the oldest member of the Pennvellyn family. Believe it our not, she's over 80 years old! She knows more of the Pennvellyn's dark secrets than anyone in the manor. She has a granddaughter named CouCou.
About this character
Edit
LouLou is a cute, funny, and wise parrot that gives Nancy many, many helpful hints throughout the game. She can uncover the secrets about alchemy, secret passages, and can even translate Latin! LouLou is also trained to play a word game, where someone tells her a word, and she responds with an associated word. In order for LouLou to be willing to play the word game, someone must tell her she is a "very beautiful and clever bird".
LouLou can be frequently heard quoting lines from pop culture and works of fiction. One of these lines includes "the time has come for closing books..." This is a lyric from the song "To Sir With Love" as made famous by Lulu.
LouLou's even cuter granddaughter, CouCou appears in Ransom of the Seven Ships and serves the same purpose as LouLou does, (give hints!)
One of the games on the computer (created by Jane) in Danger by Design has LouLou included in the title, but it is unplayable, sadly.
Community content is available under
CC-BY-SA
unless otherwise noted.