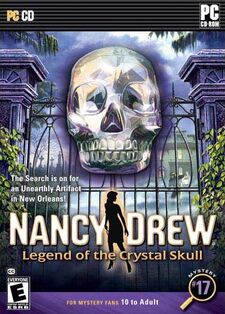 Legend of the Crystal Skull is the seventeenth instalment of the Nancy Drew game series. It takes place in New Orleans, Louisiana just before Mardi Gras. The game was released October 8, 2007 (North America).
Cast
[
]
Plot
[
]
While in New Orleans on vacation with her good friend Bess, Nancy goes to check up on Ned's friend, Henry Bolet, Jr in his late uncle's mansion. As soon as she arrives, she encounters a couple of interesting and odd characters, and has to stay at the house because of a bad storm. Once she finds out that Henry Bolet is less than stable after his uncle's death, and there are seemingly sinister things going on in the house, Nancy becomes entangled in a mystery. There are multiple places to explore and visit, including a graveyard on the grounds of the mansion, a bizarre oddities shop, and a gumbo stand. Nancy and Bess work together in order to untangle the mystery of the Crystal Skull.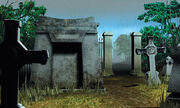 Notes
[
]
This was another game to feature Koko Kringle Bars. They were orignally mentioned in Secret of The Scarlet Hand.
This was the second game to feature Professor Hotchkiss, who first appeared in Treasure in the Royal Tower.
There is no clarification of who is on the front cover in the garden. Most box art shows a more nondescript character, but he is clearly an elderly white male with a broad jaw. This is possibly Bruno Bolet.
The woman in the painting of Henry's parents (found in the Bolet crypt) looks like Dr. Irina Predoviciu (who Nancy can call about the wood sample) in Danger on Deception Island. This may mean Dr. Predoviciu is Henry's mother.