Jane Willoughby is a computer character from the Nancy Drew game Secret of the Old Clock. She plays the part of Emily Crandall's guardian who is supposed to help her run the inn after her mother's death. She was an old friend of Gloria Crandall. However, we learn at the end of the game that she is an impostor named Marion who intercepted the letter Emily wrote to the real Jane following her mother's death. Marion pretended to be Jane so she can steal valuables, including Gloria's jewelry and pressure Emily into selling Lilac Inn so she could get half of the profit.
Physical Appearance
Jane Willoughby (Marion) appears to be about 40-45 years old. She had red-orange hair and wears a lot of makeup. She also does not leave the desk in the front hall of the Inn with the exception of finding a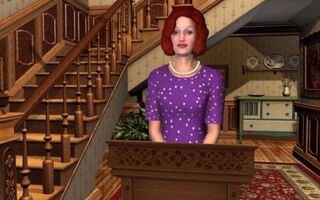 sewing needle.
Clues of why she was an Impostor
-Although a former dressmaker, she couldn't stitch together a simple dress.
-Had a picture of a tunnel that lead behind Emily's room. She would go into the tunnel and play nasty tricks on Emily, such as moving a picture on the wall in the hopes that Emily would believe she is losing her mind.
-Always tried to convince Emily that she should sell the Lilac Inn
-Always tried to convince Emily and others she was having a nervous breakdown
-Was the only one in the kitchen when the fire was started, and tried to blame Emily for it
-Emily's mother named her Emily's guardian, even though she wasn't the motherly or caring type
Ending
At the end, Nancy follows Jane/Marion around town while Jane/Marion tries to lose her. We learn that she is heading to the State Line, and take a shortcut there. Jane/Marion notices Nancy and crashes into a pie delivery truck, where she is eventually arrested. Her final line is "Why couldn't you mind your own business?"